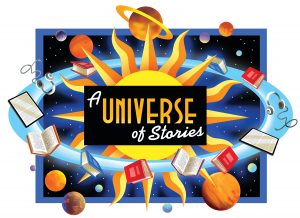 Beanstack :: Click to Register for the Summer Program and Track Your Reading
Beanstack, it's a FREE online solution for CMRLS patrons to participate in reading programs throughout the year, including the 2019 Summer Library Program and Reading Challenge. Log on to any online computer to register or download the convenient mobile app (Beanstack Tracker for Android or Apple devices), even while using your library's free WiFi. Think of Beanstack® as a Fitbit® for reading! Keep a list of books you read, write reviews if you wish, and participate in programs throughout the year.
Click HERE for help using Beanstack, HERE for more about the Beanstack Tracker App, HERE for information about ALEXA and Beanstack, and as always Library staff will be glad to help.
Event Calendar :: Search the CMRLS Event Calendar by a library, age group, type of program, or keyword.
Fun Links for Summer
FREEGAL MUSIC :: Download 5 free songs each week and stream 3 free hours each day with your CMRLS library card. Search for your favorite music by song title, artist, album title, composer, label, or genre. Enjoy playlist created by Freegal Music or make your own! Freegal offers access to about 15 million songs, including Sony Music's catalog of legendary artists, and over 40,000 music videos. In total, the collection is comprised of music from over 40,000 labels with music that originates in over 100 countries. You'll need your Library card barcode number to create a FREE account.
Try these (and more) playlists on Freegal Music:
Listen to these audiobooks (and more) on Freegal Music:
Three Tips to Read More Books You've Never Heard Before
**More fun links to come!