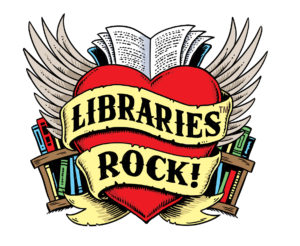 Beanstack :: New App for Tracking Your Reading
A free online solution for CMRLS patrons to participate in reading programs throughout the year, including the 2018 Summer Library Program. Log on to any online computer to register or download the convenient mobile app (Beanstack Tracker for Android or Apple devices), even while using your library's free WiFi. Library staff will be glad to help. Think of Beanstack® as a Fitbit® for reading! Keep a list of books you read, write reviews if you wish, and participate in programs throughout the year.
Search the CMRLS Event Calendar by a library, age group, type of program, or keyword.
Fun Links for Summer ♫
FREEGAL MUSIC :: Download 5 free songs each week and stream 3 free hours each day with your CMRLS library card. Search for your favorite music by song title, artist, album title, composer, label, or genre. Enjoy playlist created by Freegal Music or make your own! Freegal offers access to about 15 million songs, including Sony Music's catalog of legendary artists, and over 40,000 music videos. In total, the collection is comprised of music from over 40,000 labels with music that originates in over 100 countries.  Try these playlists: Libraries ROCK – Kid Friendly Songs Playlist, Libraries ROCK – Pre-teen Playlist, Pop Rock (1990s-2000s), Classic Rock, CMRLS Libraries ROCK!: 60s, 70s, 80s, or CMRLS Libraries ROCK!: Country on Freegal Music!
Find suggestions for musicians or bands that you might like by naming one you enjoy and these sites will find similar music for you – Music-Map.com, TasteDive.com, LivePlasma.com, Gnoosic.com.
For Babies-Preschool
ABC – All Babies Channel Nursery Rhymes & Kids Songs – YouTube
Lil' Fingers Storybooks, Games, and Activities for Toddlers
Kids TV – Nursery Rhymes and Baby Songs – YouTube
For Kindergarten-6th Grade
**Juvenile DVDs at CMRLS Libraries with the subject MUSIC.
**Juvenile Music CDs at CMRLS Libraries.
4Kids.org – is a team of educators, writers, technology specialists, and students that produce weekly articles and links demonstrating how online learning can be a safe, fun and adventurous activity.
ALFY.com – Free online games for all ages.
Easy to Make Musical Instruments – from KinderArt.
Just Books Read Aloud – More than 800 popular children's books read aloud to you (free), with full-page pictures of the books.
KidLit.tv  – Read aloud books, activities, and more.
KinderArt – See projects by age from pre-kindergarten and up.
Literacy Central – from Reading is Fundamental (RIF.org).
Storyline Online – Site is sponsored by the Entertainment Industry Foundation; popular children's books are read by members of SAG-AFTRA Foundation. Books also have activity guides.
For Teens/Adults/Families
**DVDs at CMRLS Libraries with the subject MUSIC.
**Music CDs at CMRLS Libraries.
Music News
LoudWire.com – Rock music news, interviews, reviews, and more.
PlanetRock.com – Where Rock Lives!
UltimateClassicRock.com – News, lists, history, and more
50 Greatest Album Covers of All Time
American Music Therapy Association
Audacity – A free audio editor and recorder.
Bass Test Low HZ Frequency – Access to three different bass frequency tests starting at 40 Hz.
Billboard Top World Albums Chart
Cylinder Audio Archive – Browse the Collection of Cylinder Audio Archive of UCSB Library (University of California at Santa Barbara.
Callixtinus – A YouTube channel completely devoted to Medieval Sacred Music. Hear Gregorian chant, Byzantine chant, and more.
Chrome Music Lab – Explore how music works with collaborations between musicians and coders, all built with the freely available Web Audio API.
The Didgeridoo: Introduction – The didjiman provides all the basic information about the didgeridoo, from creating it to playing it.
JustinGuitar – Free online guitar lessons.
How Playing an Instrument Benefits Your Brain – YouTube video.
How to Read Music in 15 Minutes – YouTube video.
How Vinyl Records Are Made – A 1956 recording of how vinyl records are made, from concert to finished record; from Open Culture: The best free cultural and educational media on the web.
Loudwire.com – rock music news, interviews, reviews, and more.
Magnetic Poetry: Play Online – Create and share poems online.
Moosic Study – Cows give more milk while listening to slow music!
Musical Instrument Museums Online 
OddMusic.com – Look, listen, explore.
PlanetRock.com – where rock lives!
STOMP Online – Established in 1994, this stage show merges dance, music, and theatrics with an original percussive rhythm.
Ultimate Classic Rock – news, lists, history, and more.
Virtual Piano – Use your computer keyboard to play any song.
Watch a Needle Ride Through LP Record Grooves Under an Electron Microscope – From Open Culture: The best free cultural and educational media on the web.
Wild Music – Experience the sounds and songs of life.